2649 
julievieira  Signiscape_official  Feb. 17, 2021, 5:11 p.m.
Update:Signiscape_official Feb. 17, 2021, 10:40 p.m.
food, EC, Games, spices,
On December 1st (Sun), the spice brand "The_MIX" with the concept of "immersive food" officially launched the EC site (https://themix.jp).
The first product is the board game "Gaming Spice", whose innovative concept has become a hot topic on SNS, and the pre-sale was sold out in 12 minutes at the game market 2020 autumn.
Developed in collaboration with the analog game production group "Anti-Social People's Circle", you can enjoy 2 types of games using 8 types of carefully selected spices.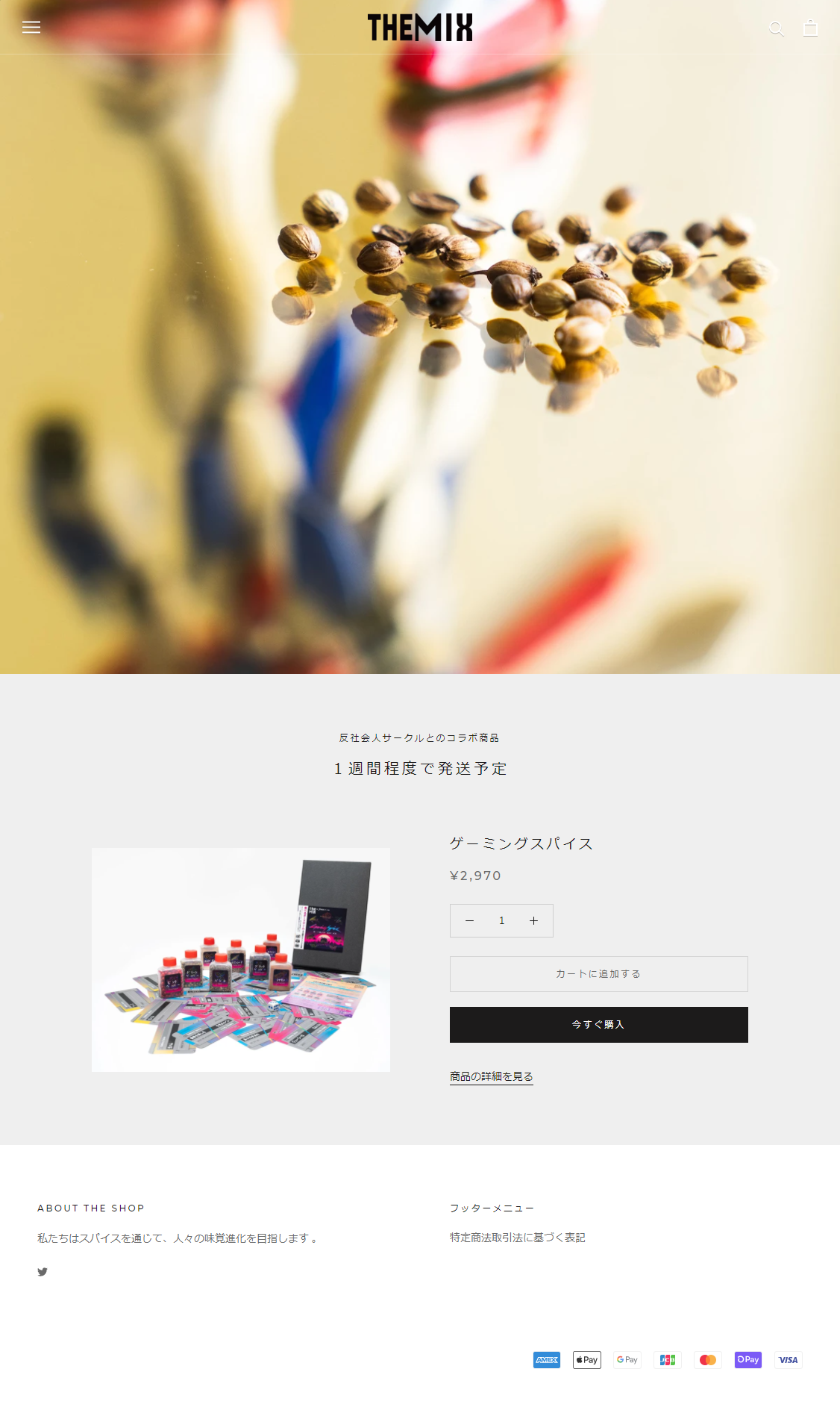 The fusion of food and entertainment has been booming in recent years, and "The_MIX" has a new concept "Immersive Food" and delivers products that can be immersed in the spiritual world through the EC site.
"Gaming Spice" was developed in collaboration with the analog game production group "Anti-Social People's Circle" known for "This death from overwork is amazing" and "Games that customers really needed".
"Gaming Spice" is a "playing game". There are a lot of games that are based on the theme of the game, but it is a really playable game.
We are aiming for a game that can be played with a light car, or a spice that allows you to discover new charms while playing.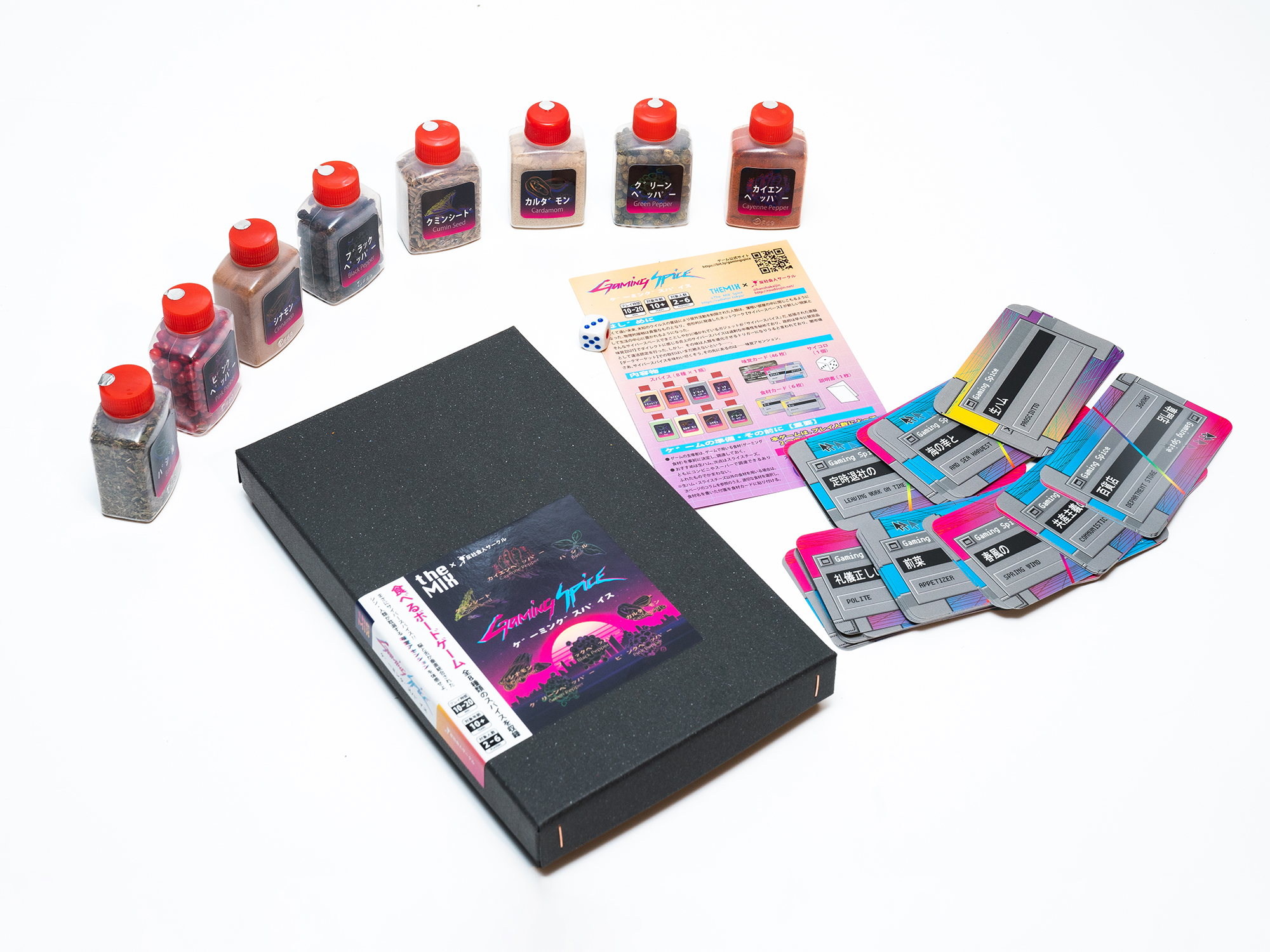 Eight kinds of spices carefully selected by the spice brand "The_MIX" are included, and you can play two kinds of games by looking at them.
One is a "viewable identity concealment game" that expresses the taste of spice blends with cards and hunts down spies who are not alone.
The other is a "living transmission game" in which the leaves are expressed in a spice blend and the players are asked to apply them.
It can also be used as a breather when you are hungry at a game party.
■ Product overview
Product Name: Gaming Spice Number of players: 2 to 6 people
Play time: 10 to 20 minutes
Target age: 10 years old and over
Contents: 8 kinds of spices x 1 bottle (cumin seed, cayenne pepper, black pepper, pink pepper, green pepper) (Papper, Cinnamon, Cardamom, Basil), 52 cards, 1 dice, 1 manual
Release date: December 1, 2020
Price: 2,970 yen (tax included)
Seller: Radiator GK (Nosaka 103, Sigma Kaki, Nosaka 5-9, Kaki, Tokyo, 152-0022, Tokyo)
Manufacturer: Welyco Co., Ltd. (331 Grand Tokyo Shibuya Building, Utagawa-cho, Shibuya-ku, Tokyo 150-0042)
■ About The_MIX
A spice brand established in 2020 to propose "immersive food". Invented a new taste and used it as an unknown stimulus.
In order to lead you to Ascension, we will continue to provide innovative products that transcend the boundaries.
Company name: Radiator GK Location: 103, Nosaka, Sigma Kaki, 2-5-9 Nosaka, Kaki, Tokyo, 150-0022
Setting: 2020
Website: https://radiator.tokyo/
EC site: https://themix.jp
Twitter account: https://twitter.com/The_MIX_Spice

■ About immersive foods
A new concept of the spice brand "The_MIX". A general term for foods that respond to people's spirits, with a focus on "immersive experience."
■ About antisocial circles
A row-type art and analog game production organization consisting of three workers. It was formed in 2010 as an antisocial force. "This death from overwork is amazing! The game that customers really need" is a masterpiece.
Website: http: //roudoujin.net/
Twitter account: https: //twitter.com/hanshakaijin